By: Brittany Bagent, Director of Strategy
Elevating the quality of place is a critical component of economic development as we work to recruit new companies and talent to our region. One of the three strategic goals in CREDC's recently adopted Economic Development Plan is to lead efforts that help tell the story of place in Clark County.  
To that end, CREDC collaborated with Vancouver's Downtown Association, Ridgefield Main Street and Downtown Camas Association to put together Main Street Day—the first event of its kind in the region— with the goal of highlighting the spaces that characterize our region and provide a forum for champions of those spaces to share ideas and best practices. We engaged all of our senses during the day's tour by listening, feeling, tasting (yes, Root Beer Floats and hops were involved) and seeing our downtowns in a whole new light.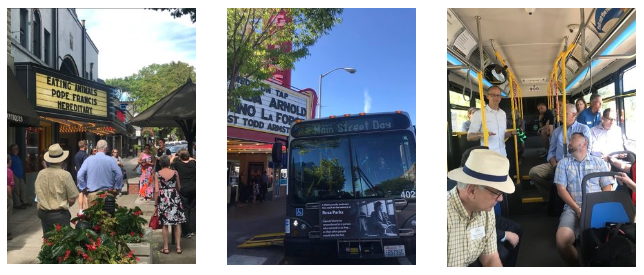 Over the course of six hours aboard CTRAN's Rosa Parks bus, city leaders and community champions toured six cities—Vancouver, Ridgefield, La Center, Battle Ground, Camas and Washougal—to learn about their unique history, vibrant spaces and initiatives that contribute to Clark County's unparalleled quality of life.
"The history of Clark County begins on Main Street. Vancouver's Main Street was the first to be established in the county in 1857."
– Brad Richardson, Clark County Historical Museum
The day brought many ah-Ha moments. Some of the most notable include:
Understanding that cities have similar challenges and can leverage each other as resources.

Ideas for future efforts including, Main Street board of director swaps, city-to-city exchanges, participation at future conferences and more thoughtful and intentional collaboration,

Reinforcing messages that collaboration across the board is the key to success.

Concluding that what is good for one community is good for all Clark County communities. 
Overall, the tour made it clear that Clark County's unique character is made up by the diverse range of amenities and vibrant spaces it offers – from Vancouver's urban core, Ridgefield's Americana charm, the beautiful tree-lined streets, unique boutiques and small-town charm of Camas, the vast display of local art in Washougal, the historic old town in Battle Ground to the trails and parks in La Center – and that it truly is the authenticity of each city that makes Clark County a great place to be!