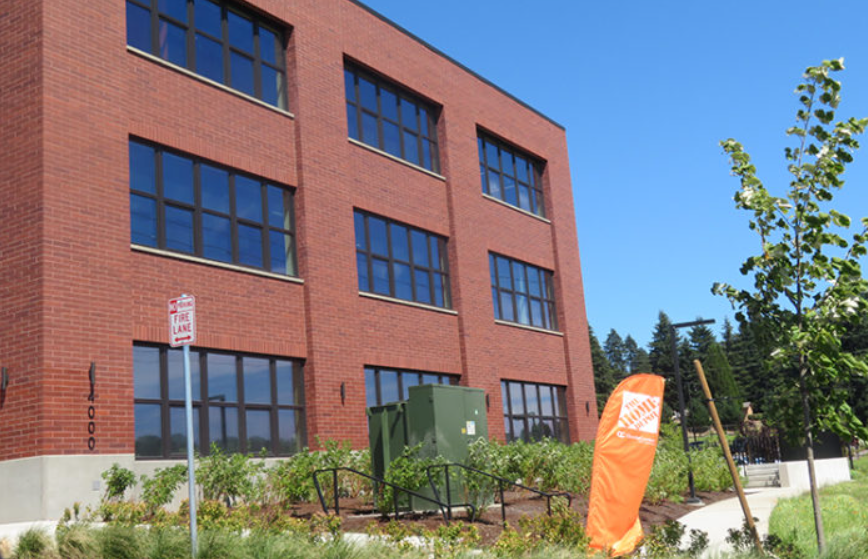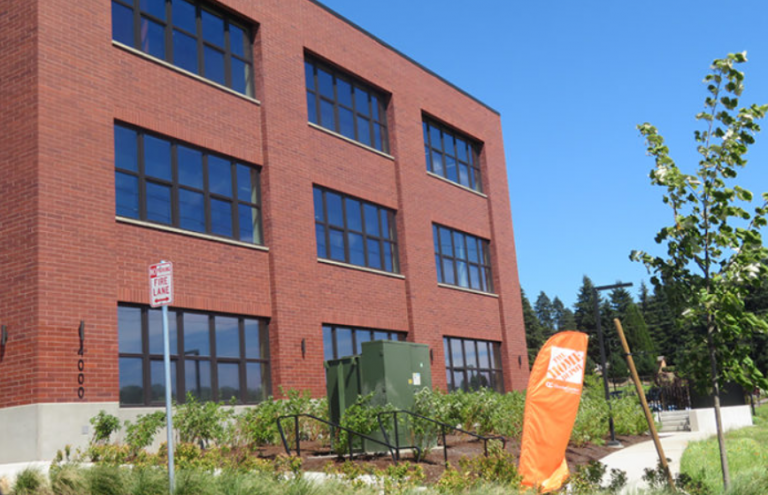 Vancouver isn't the first place you think of when discussing Fortune 25 companies, but that hasn't stopped one from quietly growing its local operations.
The Home Depot, which had more than $100 billion in revenues last year, has been growing locally through the QuoteCenter, a software company it purchased in 2013. Using the center as a technological solutions provider for the entire corporate operation, Home Depot is expanding its Vancouver footprint with a new building and hiring spree that could double its local workforce in coming years.
"People don't really know about QuoteCenter in this community," said Mike Lee, manager for corporate talent acquisition. "To have a $1.3 billion company in their backyard is really amazing, and few people know we're here."
The QuoteCenter got started about a decade ago as a specific product for buying customizable trusses, which are a component of attic construction. Trusses come in standard sizes, but most of them are customized to fit individual homes.
"Obviously you're not going to design your home around a truss, so you need a way to shop for what you need," Lee said.
Home Depot was selling trusses, but because of the customizable sizes, the company was also getting lots of errors and returns on products.
"It ended up being nothing more than expensive firewood for Home Depot," Lee said.
Home Depot did a contractor search for a solution and ended up selecting the QuoteCenter to build the company's software for truss sales, which led to an even closer relationship between the two businesses.
"We solved Home Depot's truss problem," Lee said.
Not long after, Home Depot realized it was also having problems with special orders, and it noticed it had a gap in services for professional contractors. So, Home Depot purchased the QuoteCenter and retooled it to become what is basically Home Depot's professional software shop.
"They acquired us to build a system to solve their quote problem just like the truss problem, and today we're a big part of Home Depot's business," Lee said.
Prior to purchasing the company, Home Depot industrial customers only had two ways to purchase items. They could go into the store, in which case they'd be subject to availability and price fluctuations, or they could go to HomeDepot.com and order in bulk, in which case they'd have no control over which specific vendor the materials were purchased from.
"The QuoteCenter is a third way for our customers," Lee said. "It's a software application that today makes up the lion's share of contractor interactions with store associates. You can tell our Pro Desk what you need, and they use QuoteCenter to build a custom quote and facilitate a sale. You have control over a lot of things you don't in the first two methods."
With QuoteCenter, contractors can control which vendors are used and they can get competitive price estimates. They also have access to a variety of discounts and can control how product is delivered to the site, such as by boom truck, delivered to the curb or lifted up to a roof.
Now Home Depot, which is celebrating its 40th year in business, is using QuoteCenter as a key method to expand its business and pursue the lucrative professional contractor market.
Do-it-yourself revenues, once the company's mainstay, have remained stable for Home Depot for several years. But that market is saturated and unlikely to grow much more, Lee said.
Prior to the software launch, contractors had been using the Home Depot's website, but with little control over pricing or suppliers, it wasn't convenient enough to be a major business draw for them. With QuoteCenter, that's changed significantly, Lee said.
"Now the pro contractor is most likely to use our QuoteCenter," Lee said. "And the pro contractor market share is huge. We're talking a ginormous amount of money that far exceeds exponential growth of our annual revenues."
In the past several years Home Depot has been positioning itself through acquisitions to grab up more of that pro contractor market. Along with the QuoteCenter, two years ago Home Depot bought a company called Interline, a home repair and maintenance products seller, for $2 billion, to beef up its product offerings.
And in 2017, Home Depot decided to grow the QuoteCenter's operations in Vancouver. The company broke ground on a new building that October, which will include two floors of office space for about 215 people, Lee said.
"It's a major deal," Lee said. "It's also a major deal for Home Depot to establish a corporate presence on the West Coast. Most operations are out of Atlanta."
That presence is also a huge deal for the local economy, said Max Ault, interim president of the Columbia River Economic Development Council (CREDC).
"We are very excited to see the continued growth of The Home Depot QuoteCenter in Vancouver," Ault said. "It is rewarding to see the collaboration of both private- and public-sector partners proactively working to meet the needs of one of our region's fastest growing companies. The Home Depot QuoteCenter's continued investment in this region demonstrates that Clark County is a compelling choice for software and technology companies who value access to a talented workforce and a high quality of life."
As part of Home Depot, the QuoteCenter has also seen rapid growth in recent years. In 2017, the QuoteCenter had $1.3 billion in revenues, up from $650 million in 2016 and $400 million in 2015, Lee said.
"We were at 50 employees a few years ago," Lee said. "In the last 18 months we've grown to 108. Our new building will fit 215, and we're just continuing to grow."
The company expects to hire another 20 to 25 people locally this year, and is primarily looking for employees with experience in the software industry.
"We're very competitive with the major and notable employers of this area," he said of wages and benefits.
A grand opening ceremony will be held at the Home Depot QuoteCenter in Vancouver at a later date this year.