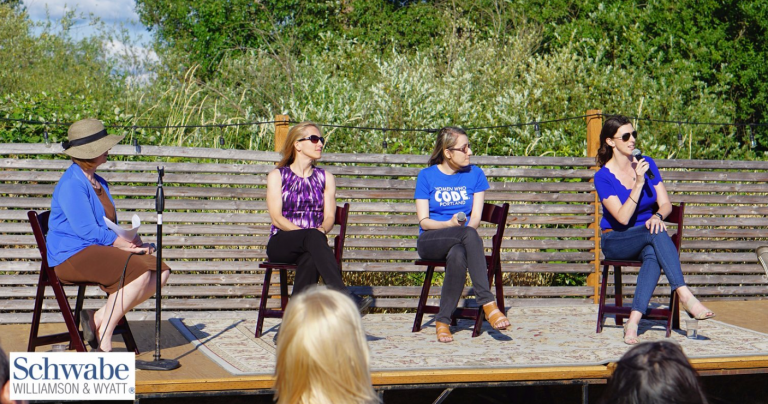 A perfect summer evening at 3Peaks Public House and Taproom in Ridgefield was the setting for a thought-provoking discussion with three women who are changing the face of technology. 
Nationally, the proportion of women in computer science and tech fields has decreased from 37 percent in the 1980s to less than 18 percent today, and just 20 percent of Fortune 100 CIO positions were held by women in 2016.  As we work to grow a competitive and diverse economy that positively impacts our entire community, we can't afford to NOT actively attract women to the field.  
The conversation explored all sides of the topic, including:
  What women uniquely contribute to technology and innovation;

  What employers can do to create a welcoming workplace for women;

  What women can do to succeed in this male-dominated field.
Each panelist was unique in the stage of her tech career and the path she is taking:
Kathryn Brown, CEO, ScoutSavvy
As a Women Studies major from Maine State University, her path to a tech industry career was not a straight line.  Along the way she realized that proactive steps are needed to encourage women into the tech industry and to help employers make it easy to hire.  Her firm ScoutSavvy is tailored to users with an approach similar to online dating sites, such as Match.com.  Employers and job seekers build their profiles and the software identifies potential matches between employer and professional. 
Caterina Paun, Director of Women Who Code Portland
Both of Caterina's parents are engineers, so choosing a tech career came naturally to her.  She currently works as a UX (user experience) Engineer and in her eight years in the profession has often been the only woman on the team.  In addition to her "day job," Caterina is the director of Women Who Code Portland.  This nonprofit organization seeks to "inspire women to excel in technology careers by creating a global, connected community of women in technology."
Dorota Shortell, CEO, Simplexity Product Development
Dorota Shortell took over for the founder of Simplexity Product Development in 2010 after working in the company as a senior mechanical engineer, project manager, and director of the Vancouver office. Simplexity is an engineering design service company that designs products like 3D printers, biotech equipment, wearables, and consumer products.  Dorota has almost 20 years of new product development experience and holds a U.S. patent. She graduated from Loyola Marymount University with a bachelor's degree in mechanical engineering and earned her master's degree in mechanical engineering from Stanford University. 
Employers Need Women on their Teams
Women bring a unique perspective to the profession and one that all employers should embrace to reach the highest level of innovation.  Women typically are focused on the achievements of the team over the achievement of themselves as individuals.  Women have different life experiences that they can bring to the creative side of tech.  These ideas can spur innovation in ways that a male-only workforce cannot. 
A CIO for a major U.S. company shared with me that when they hired one female on to their programming team the entire atmosphere changed.  Now, instead of individuals glued to their screens, there is information sharing, team building and new creative innovation happening.  The point was made that this extends beyond just women, and that having a diversity of backgrounds and experiences on a team can foster new ideas and creative problem-solving.   
Hire AND Retain Women
Hiring women into a male-dominated unit requires employers to think about how to create a healthy environment that will retain them.  As Kathryn Brown pointed out, give women challenging work and find ways to integrate us with our male counterparts.  Once you have one women on board, more will be interested to join your firm, says Caterina Paun.  Actively encourage conversation and activities where all can participate.  Executives can serve as role models for the kind of energy and interaction they want among their IT teams.
Advice for Women in Tech
Our panelists had lots of advice for those starting out in tech as well as those who are well into their careers.   
Tell your story to everyone who will listen.  Kathryn reluctantly told the story of her new tech company to a guest at a party.  To her surprise, he was also in the field and very interested to help her connect with key partners. 

Give a hand up to a newer colleague.  Dorota makes it a point to make time to meet with younger women seeking advice on how to make their way in the tech field.  Sharing your rolodex was another approach that our panelists use to help other women succeed.
Overall, the evening provided many new insights for all.  With so few women in tech today, this is an opportunity for all employers to create a differential advantage for their company by actively seeking to build an inviting workplace for a more diverse range of talent, including women.
Written by: Dr. Jane Cote, WSU Vancouver