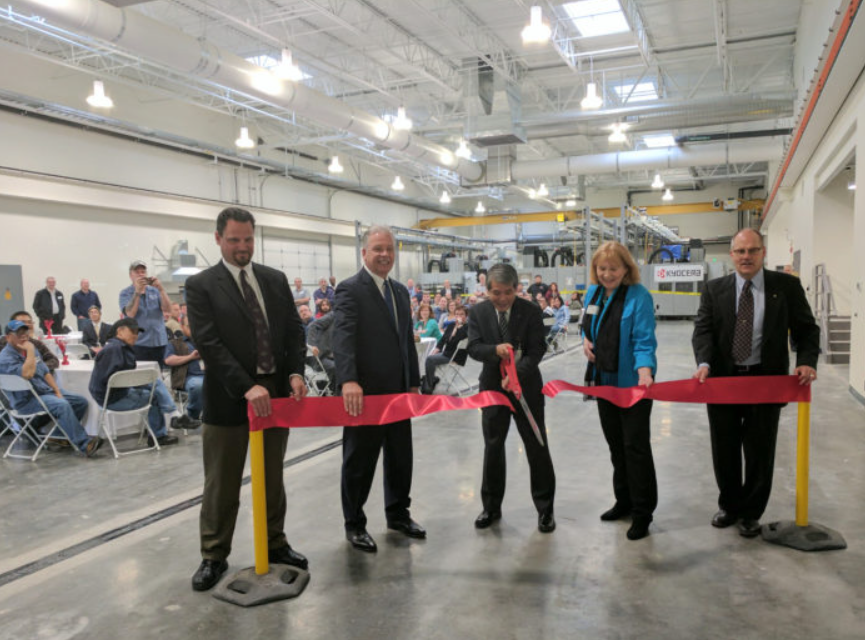 Kyocera Industrial Ceramics Corporation celebrated the completion of a $10 million expansion project in Vancouver on Thursday.
The project, which broke ground last April, increased the size of Kyocera's 23,000-square-foot Vancouver manufacturing facility by about 50 percent, to 63,000 square feet. The plant is located at 5713 E Fourth Plain Blvd.
Robert Whisler, president of Kyocera America Inc., said the expansion will create at least 50 new jobs over the next few years. The facility currently employs approximately 140 employees.
"This market (for ceramics) is growing very quickly," said Whisler. "In fact, we probably have a need for more space than this new expansion represents, already. So that's really good news."
Kyocera's ceramics are used in high-performance, high-reliability applications, with roles in the semiconductor, aerospace, automotive, medical and renewable energy markets.
"The technology for ceramics and what they're used for is in almost every industry… and the demand for it continues to grow," Whisler explained. "Ceramic provides a material that isn't affected by heat like metal is. It's wear resistant and chemical resistant."
As long as business conditions remain favorable, Whisler said, "this is just the beginning of further expansions."
Kyocera companies have manufactured in Vancouver since 1986, with the current operations active since 1992.
Article & photo by Vancouver Business Journal