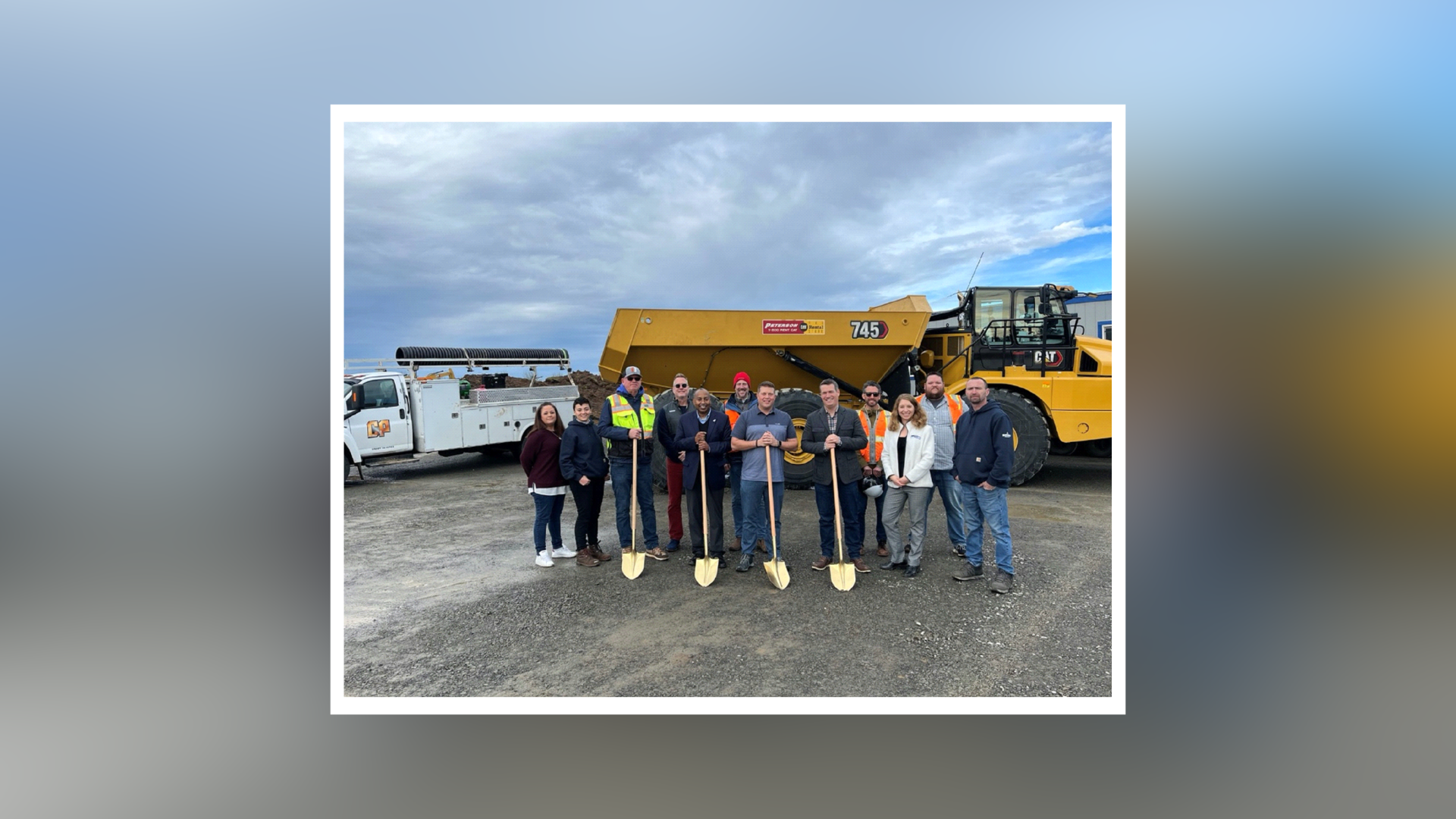 (Left to right) Katie Smith, Summit's Corporate Office Manager; Melinda Gonzalez, Summit's Production Supervisor; Craig Gamble, Robert Evans Co's Superintendent; Jeff Blater, Summit's Director of Operations; Clint Hendricks, CREDC's VP of Business Development; Mike Wells, Stratus's Principal; Ted Croce, Summit's CEO; Ben Wiley, Robert Evans Co's President; Ryan Suarez, Robert Evans Co's VP of Development; Katie Wuestenberg, Summit's Purchasing Manager; Roarke Van Brunt, Robert Evans Co's Project Manager; Mike Whittington, Summit's Production Manager
For Immediate Release
January 19, 2023
Ridgefield, Wash. – Today, key company officials, dignitaries and vendors convened to break ground for a brand-new manufacturing plant for Summit Truck Body (www.summitbody.com) at 16808 NE 10th Avenue in Ridgefield, Washington for a new 74,000 square foot factory for truck bodies. Summit manufactures truck bodies used for deliveries, lease and rental, cargo freight, various trades, and airport drayage.  
The new factory will substantially increase Summit's capacity to meet customer demand throughout the Greater Northwest and Northern California regions. In addition to the increased size, the building will have multiple production lines that have been mathematically designed to enhance productivity through one-piece-flow manufacturing. 
"Summit has been trusted by our customers with a record backlog of orders, and this investment demonstrates our commitment to fulfilling them," said Ted Croce, CEO of Summit Truck Body. "This facility is a strategic move intended to exceed industry standards for lead times, and create a manufacturing work environment for our Employee-Owners that is the standard by which all others in this industry will be compared."                             
Summit purchased the property in mid-2021 and has since been working on permits with Clark County. The location is south of the Ridgefield city limits, adjacent to the amphitheater and fairgrounds. "Proximity to Interstate 5 was critical in the site selection for ease of transportation access by customers, employees and suppliers," said Croce. "We persevered through challenges with wetlands, slope and escalating construction costs to make the project a reality." 
"We are delighted to welcome Summit Truck Body to Clark County," said Clinten Hendricks, Vice President of Business Development for Columbia River Economic Development Council (CREDC). "Community leaders have positioned Clark County to attract manufacturing companies, which have a positive multiplier effect for our local economy."
Summit's corporate headquarters will also relocate into an 11,000 square foot portion of the building. This new Ridgefield facility will be in addition to a repair operation in Kent, Wash., that already serves the greater Seattle area. Of the several buildings currently occupied in Portland, Ore., one facility will be retained to provide ongoing service to the current customer base in Portland. 
"Providing a modern headquarters and office for our manufacturing team is a key objective with this new facility in order to continue attracting the best team members who are the cornerstone of our continued success," said Jeff Blater, Director of Operations. Summit Body is 100% Employee-Owned, one of only about 8,000 businesses in the country to achieve this incredible feat. "We'll be able to add 60 new employees in addition to the 45 current employees that will be transferring with us to this facility," said Blater. 
Key team members include Beneficial State Bank for financing; Robert Evans Co for construction; CIDA Architects for design; AAI for engineering; OMEP for manufacturing layout; Stratus Developers for project management; and Colliers International for brokerage. 
"Undertaking new construction from the ground up is not for the faint of heart; I am grateful for the contributions of each person who made this possible," said Croce. "I'm humbled that the best of the best chose to work with us on this project." Construction is expected to be completed in December 2023. 
For more information: www.SummitBody.com 
Contact Ted Croce at (503)283-2030, TCroce@SummitBody.com or
Mike Wells at (503)720-0036, Mike@StratusDevelopers.com.  
About Summit Truck Body:
An Employee-Owned company, Summit Truck Body focuses on innovative engineering design to build customized truck bodies with the highest possible uniformity and quality for the specific needs of their customers including dry freight, refrigerated, curtain-side, flatbed, cutaway, and fiberglass reinforced plywood (FRP).
Summit prides itself on providing high-quality craftsmanship to build truck bodies that look better and last longer than any other comparable product at a reasonable price. Summit is also an authorized service partner for all makes of lift gates and specialists in van body repair.